Základní část tohoto ročníku National Hockey League je nenávratně za námi a proto nastává chvíle jako stvořená k bilancování. Konkrétně jsme se podívali na nejproduktivnější české hráče.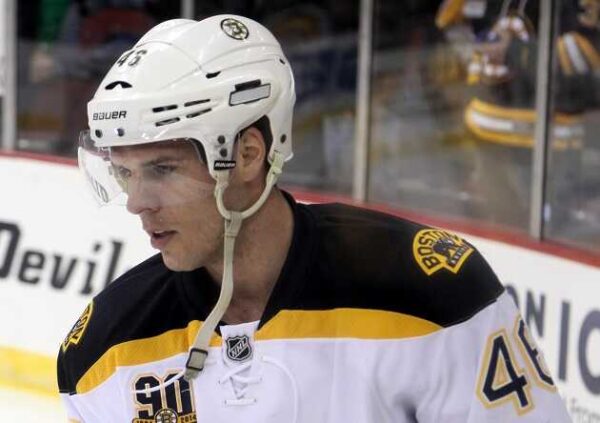 Zámořská NHL se kvůli pandemii nového koronaviru stejně jako drtivá většina sportovních soutěží na světě zastavila a pokud se v následujících týdnech za dodržení přísných bezpečnostních podmínek přeci jen vrátí na scénu, kluby budou dohrávat už jen play-off. Základní část je tedy definitivně za námi, díky čemuž můžeme začít bilancovat nad tím, co se během ní povedlo více a co naopak méně. Jako první se zaměříme na pozitiva spojená s českými hokejisty, jimž se letos z hlediska produktivity opravdu dařilo. Kdo v tomto směru obstál vůbec nejlépe? To se dozvíte v následujících řádcích.
5. místo – David Krejčí
Čtyřiatřicetiletý útočník původem ze Šternberku působí v zámoří už pěknou řádku let, přičemž kromě počátečních anabází v nižších soutěžích zatím nikdy neměnil dres. Vedení klubu Boston Bruins vkládá do Davida Krejčího téměř absolutní důvěru a pravidelně mu nakládá velké množství povinností. Mezi ty nejzákladnější pak samozřejmě patří sbírání kanadských bodů. Letos se kladenský odchovanec jen těsně nevešel mezi první stovku nejproduktivnějších, když nasbíral 43 kanadských bodů za třináct branek a třicet asistencí. Ačkoli bilance to určitě zlá, k osobnímu maximu z minulého roku se Krejčí nepřiblížil ani zdaleka.
4. místo – Dominik Kubalík
Velkým překvapením aktuálního ročníku National Hockey League se stal explzeňský útočník Dominik Kubalík, který už v šanci prorazit do nejlepší hokejové soutěže světa snad ani nedoufal. Před osmi lety se potuloval pouze po zámořských farmách a proto se následně vrátil do mateřského klubu, kde sbíral zkušenosti a rovněž značné množství kanadských bodů. Zásadní kariérní zlom zaznamenal v roce 2017, kdy podepsal se švýcarským Ambri-Piotta. O rok později vyhrál kanadské bodování tamní nejvyšší soutěže, zanechal výraznou stopu v národním týmu a následně si vymodlil přestup do Chicaga Blackhawks. Tam začal vskutku excelentně a postupně se sunul sestavou do popředí, až zakotvil v elitní lajně vedle hvězdné dvojice Jonathan Toews – Patrick Kane. Sezónu zakončil se ziskem šestačtyřiceti kanadských bodů za třicet branek a šestnáct asistencí. Doufejme, že jeho hvězda v následujícím roce nevyhasne stejně rychle, jak vzplála.
3. místo – Jakub Vrána
S ještě lepší fazónou se představil čtyřiadvacetiletý útočník Jakub Vrána, jenž v barvách Washingtonu Capitals kroutí už třetí sezónu a každým rokem přidává větší a větší množství kanadských bodů. Konkrétně letos jich odchovanec pražských Letňan nashromáždil úctyhodných 52, když pětadvacet branek sám vstřelil a dalších sedmadvacet připravil pro své spoluhráče. Ke zlepšení osobní bilance se tedy dopracoval i pře nepřízeň osudu, která základní část předčasně zhasila. Obrovská hokejová škola Alexandera Ovečkina zkrátka začíná přinášet výsledky.
2. místo – Jakub Voráček
Kdyby Jakubu Voráčkovi někdo v raných počátcích tohoto ročníku řekl, že z hlediska počtu kanadských bodů skončí mezi svými krajany na druhé příčce, možná by tomu ani neuvěřil. Jeho Philadelphia Flyers si vybrala několik týdnů smůly a zmaru, přičemž právě výkony kladenského rodáka byly v médiích hodně kritizovány. On si však negativními reakcemi nenechal vzít vítr z plachet a nakonec zkompletoval 56 kanadských bodů za dvanáct branek a čtyřiačtyřicet asistencí, týmu navíc výrazně pomohl ke "zmrtvýchvstání" a konečnému druhému místu v rámci Metropolitní divize. Přestože už zažil mnohem bohatší období, se smutným výrazem na předčasně ukončenou základní část určitě vzpomínat nebude.
1. místo – David Pastrňák
Na pomyslný trůn určený pro nejlepšího českého hokejistu v zámořské NHL se letos zcela jednoznačně posadil David Pastrňák, který překonal osobní rekord a posbíral 95 bodů. Nebýt nucené stopky, určitě by se stejně jako jeho Boston Bruins dostal i přes magickou stovku. Rodák z Havířova se v rámci kanadského bodování celé soutěže umístil na třetí příčce, lépe si vedli už jen edmontonští nenasytové Connor McDavid s Leonem Draisaitlem. Mezi střelci pak po celou sezónu naprosto dominoval a ačkoli jej těsně před koncem dostihl fenomenální Ovečkin, prvenství nakonec uhájil. Zdá se, že prázdné místo po Jaromíru Jágrovi se konečně zaplnilo.